A Long Weekend
In Guernsey

Guernsey is an ideal location for a long weekend break away from it all. With many UK airports only an hour from the island, escaping to Guernsey for a few days is the perfect option that will have something in store for everyone! Don't be fooled by its small size, there are a lot of activities and sights to pack into your three days here, but luckily, at only 24 square miles, nothing is too far away to explore.
Day One: Friday
After arriving in Guernsey airport, your best course of action is to head to St. Peter Port. This is the island's capital and a hub of activity. If you want to learn about the island's history, head to the Guernsey Tapestry at the Gallery in St. James Concert Hall, wander through the beautiful Candie Gardens or explore Hauteville House, former home to French writer Victor Hugo. If you would rather just take it easy why not explore the boutique shopping, then sit back and relax with a coffee or bite
to eat and watch the world go by.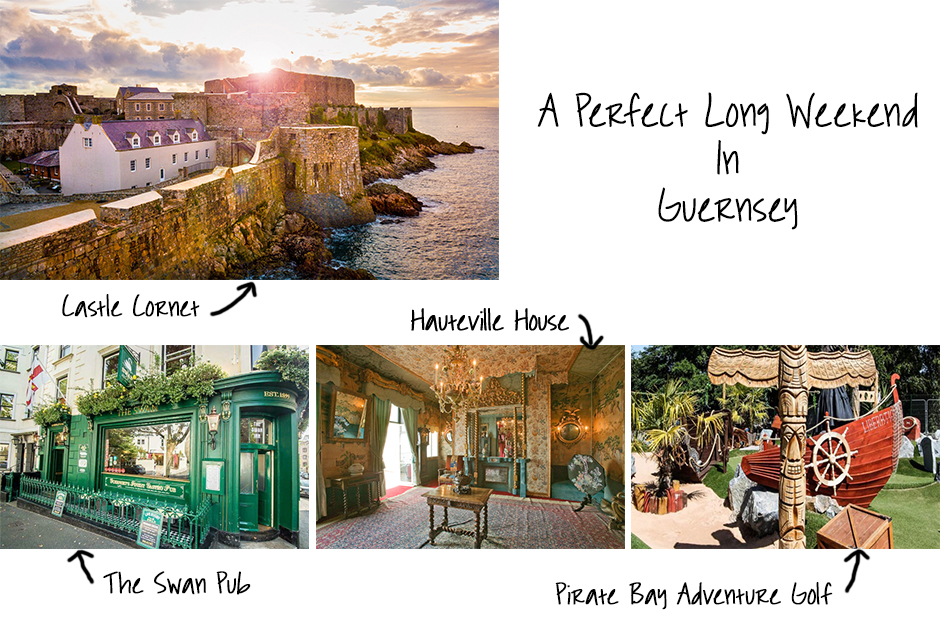 As you've obviously noticed by this point, St. Peter Port is guarded by a large castle that sits proudly just outside of the harbour mouth. This is Castle Cornet, an 800 year old fortress that stands guard over the island and features five museums that are housed within the castle. These comprise The Story of Castle Cornet, 201 Squadron (RAF) Museum, Maritime Museum, Royal Guernsey Light Infantry Museum and Royal Guernsey Militia Museum. As well as the lion's-share of Guernsey museums, Castle Cornet also boasts four historic gardens within the castle walls, lovingly tended to by the castle gardeners who keep them looking their Sunday best.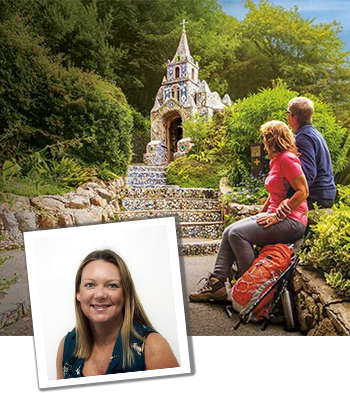 "Nestled away between the country Parishes, The Little Chapel is one of my favourite landmarks in Guernsey."
Lara, our Customer Services Manager
With all those shopping bags and newly discovered information on the history of Guernsey, it's probably time for a drink! The Swan pub in St. Peter Port was famously frequented by Actor Oliver Reed and serves as the perfect place to stop for a quick refreshment. With a new spring in your step and feather in your cap, a bit of fun is on the agenda, and there is no more fun to be had than at Pirate Bay Adventure Golf! Pirate Bay is one of Guernsey's most enjoyable attractions and features a 12-hole mini-course that is fun for all the family.
As the sun begins to set on your first night in Guernsey, there really is only one option and that's to have fish and chips on the sea wall at Cobo Bay. As you pick your last chip from the paper wrapper and watch the beautiful sunset slip away into the horizon you can relax in the knowledge that tomorrow is another holiday and there is plenty left for you to explore in Guernsey!
Day Two: Saturday
After what was undoubtedly the most relaxing sleep you've had in years on this tranquil isle, you best put on your sightseeing glasses and prepare for an Island Tour with Island Coachways to discover the real Guernsey under the supervision of a storied and knowledgeable local! From 10.30am – 2pm throughout May – October, you can see this beautiful island on a tour that stops at both the Little Chapel & Guernsey Pearl.
The Little Chapel is an absolute must-see whilst in Guernsey, and sits tucked away in the parish of Saint Andrew. Built in 1914 as homage to the famous grotto and basilica at Lourdes in France, this tiny replica has become something of a sensation. With its walls decorated in shells and broken china, the Little Chapel gives the perfect opportunity for one of the most Instagrammable shots of your trip!
Guernsey Pearl focuses on locally made Pearl Jewellery and is located at the beautiful Rocquaine Bay on Guernsey's west coast. It has an extensive range of oyster and fresh water pearl necklaces to suit every taste and budget and allows you to take in one of the best views in Guernsey of Fort Grey as you enjoy the Tea House within Guernsey Pearl.
Keeping on the subject of Guernsey's best views, dinner for the evening should be taken in Octopus Bar & Restaurant. With beautiful views over Castle Cornet (which you saw the inside of yesterday), you'll also find high quality stylish design and superb food with a diverse menu focusing on seafood. Octopus is the perfect way to end your second day.
Day Three: Sunday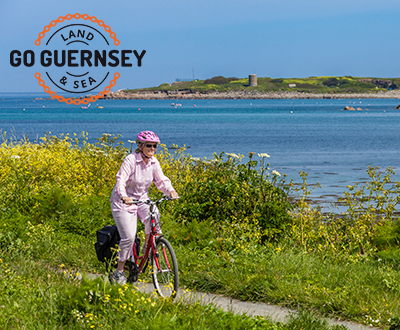 Unfortunately, today is your last day, but don't fret, there's a lot still left to do!
To start your day properly, a visit to the Hideaway Patisserie & Brasserie in Moores Hotel is unquestionably the correct choice. Serving breakfast between 8am and 11.30am, you'll be met with a selection of classic dishes, and also the finest gateaux in Guernsey! You're on holiday, treat yourself.
If you were at all tempted by the Austrian Gateaux, then the next activity of renting bikes from 'Go Guernsey' will be something of a relief! With a selection of cycle routes with varying difficulty, you can either have a gentle flat ride around the west coast, or a hills and valley trek that will really work off that Gateaux! Check out our blog for some of our 4 Best Cycling Routes in Guernsey.
Whilst you peddle your way around the island, there is a treasure-trove of attractions to be found; from the Dehus Dolmen to the concrete Martello towers from World War 2, the island is figuratively littered with bygone monuments that show off the historical importance of Guernsey and help contextualise the events that have come before.
Now your appetite for history and cycling has been well and truly quenched, spending a Sunday afternoon in a 5* Hotel enjoying being waited on is next on the list! The perfect afternoon tea is something of a white whale, but the Old Government House gets damn close. Served in the Olive Grove Garden, looking out over St. Peter Port or in the Sir John Coward Lounge, you'll be sure to be made a fuss of whilst you savour this British staple in elegant surroundings!
Arrive back at Guernsey Airport ready for your short flight back to reality – whilst you are there, make sure you use of the free airport WiFi to start planning your next visit!
You may also like
St. Pierre Park Hotel
from £59 pp
St. Pierre Park Hotel
St. Pierre Park Hotel is located a mile from St. Peter Port and is set in 36 acres of rolling woodlands and gardens, complete with a lake, a 9 hole golf course and three tennis courts
Duke of Richmond Hotel
from £74 pp
Duke of Richmond Hotel
The Duke of Richmond is a boutique hotel par excellence. The striking interior design is bold, tasteful and ultimately lavish
Peninsula Hotel
from £54 pp
Peninsula Hotel
The Peninsula is a purpose built hotel facing the ocean on the north-west coast of Guernsey. The hotel is one of the largest on the island and sits within five acres of its own land