A Romantic Getaway
In Guernsey

For couples looking for an unforgettable, hassle-free romantic getaway, the Bailiwick of Guernsey can offer exactly that. A true gem of the British Isles, Guernsey seems a world away from the hustle and bustle of life on the mainland, despite being relatively close in both distance and travel time. With excellent air links to international and regional airports in the UK, as well as a ferry service to and from ports on England's south coast, you and your loved one could be enjoying a romantic retreat in beautiful Guernsey within hours of leaving home.
If you're looking for luxury, there is a wide selection of four and five-star hotels dotted all around the island, so whether you're seeking somewhere in the heart of the capital, St Peter Port, a place by the sea or a secluded rural retreat, you will find somewhere that suits your needs. From townhouses to country clubs and converted farmhouses, the range of luxury accommodation available in Guernsey will leave you spoilt for choice.
Guernsey is also renowned for its rich culinary culture, and is home to an array of award-winning chefs and restaurants, as well as fantastic local produce, seafood, meats and dairy. Whatever your price range or preferred cuisine, you are guaranteed to enjoy delicious food and a romantic dining experience during your stay, whether that may be afternoon tea in the sun, a fancy three-course meal or even a takeaway on the beach whilst watching a stunning sunset!

Fall in love with the Bailiwick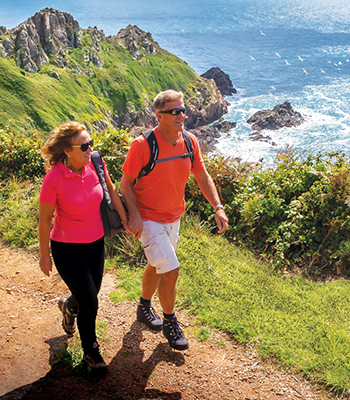 Walk, Talk & Pamper
The Bailiwick's remarkable scenery means that walking is a popular pastime in Guernsey. A romantic stroll along the beach or cliff paths is an unforgettable experience, while the west coast sunsets are definitely not to be missed. For a truly relaxed romantic getaway, treat yourself and your partner to a spa treatment. Whether you're looking for a massage, a facial treatment or something different, Guernsey is home to a variety of luxurious spas where you can get pampered. Alternatively, if you're looking to truly get away from it all, the neighbouring islands of Herm, Sark and Alderney are all easy to visit from Guernsey, each with its own unique charm. Herm and Sark are both totally car-free, with the former renowned for its golden beaches and the latter for its dramatic coastline, while Alderney boasts stunning landscapes and wildlife. All three are ideal destinations for day trips, or if you fancy escaping for a little longer, there is luxury accommodation situated on each of the islands.
So if you and your loved one are looking to escape your everyday stresses and enjoy relaxation, luxury and indulgence, begin planning your romantic holiday in Guernsey today!
1. St Peter Port
Head to St Peter Port, said to be the prettiest harbour towns in Europe, for some retail therapy. Guernsey's capital is still alive with independent shops, boutiques and gift shops, selling unique gifts for you or to take home. The town, which has won the coveted title of best coastal town in the RHS Britain in Bloom competition, is full of lovely cafes and restaurants so when you are done shopping you can settle in for a bite to eat and a spot of people watching.
If you want to learn more about the history of our capital take a self-guided audio tour or arrange to take a guided tour with one of the island's accredited guides.
2. Blow the cobwebs away with a clifftop stroll
The coastline of Guernsey, and its neighbouring islands, provide the perfect antidote to the stresses and strains of modern day life.

Leave your mobile phone behind and take a stroll around the cliff paths and along the beaches of our beautiful islands. Meander at your own pace, stopping off at one of the many cafes, kiosks and restaurants that cling to the clifftops and sink your toes into the sands to the west. Stop and admire the view at the benches along the routes, all positioned to make the most of your journey that lays ahead.

3. Watch the sunset
Drive around the coast at sunset and you'll see both islanders and visitors pulling in to get their cameras out to try and snap the stunning colours. Throughout the summer, the west coast is the best place to capture the setting sun.

The surfing beach of Vazon Bay, voted Britain's Cleanest Beach in 2014 and neighbouring Cobo and Grandes Rocques Bays also offer a breath-taking backdrop to watch the sun set. Cobo Bay is famous for its fish and chip shop so why not grab a blanket and head to the beach for tea - it's one al fresco dinner where the views really are out of this world.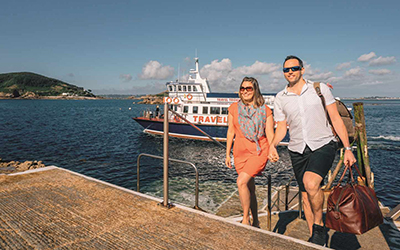 4. Hide Away on a Secluded Island
Whilst Guernsey can be considered a small sized island, seclude yourself even further from everyday worries in a private cottage or cabin on one of our neighbouring islands, where the rest of the world needn't exist. Within a 15 minute flight or short ferry ride, you could be on one of our sister islands of Alderney, Sark or Herm. Perfect for a romantic weekend away.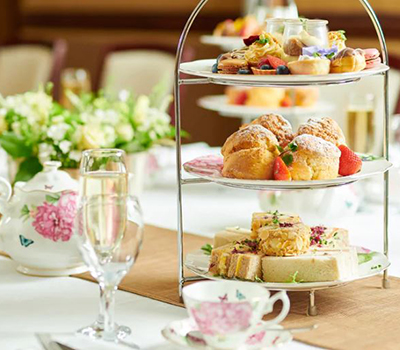 5. Afternoon Tea
Part of the afternoon tea ritual is to over indulge in sweet delights and tantalizing savoury treats! Enjoy a cool glass of afternoon bubbly or a fragrant cup of tea, whilst enjoying the gorgeous surroundings offered by the many establishments that offer this favourite past time. Sweet indulgence can be enjoyed at one of the following establishments or any number of other establishments throughout the island:
6. Feel on top of the world
Victoria Tower was built to commemorate Queen Victoria's 1846 visit. Collect the key from the Guernsey Museum at Candie, which is just across the road, and climb to the top. Climb up and up the narrowing spiral staircase to the rooftop, which offers spectacular views across St Peter Port and out towards our sister islands.

The Tower was the secret meeting place of Victor Hugo and his mistress, Juliette Drouet. If you look closely you may be able to find the spot
where they carved their initials into the wall.
Once balance has been re-stored, it's time to make the short journey back to the airport for your homeward flight, taking with you a wealth of sun-dappled memories that will last a lifetime, and a resolution to return soon.