Herm From Home
In Herm

There's nothing quite like the feeling of anticipation in the air around the Travel Trident Boat ticket kiosk on a sunny summer's morning.
This is Herm: Welcome to Paradise Island! Only a quick 20 minute hop from Guernsey, this shiney little gem is within reach for all to enjoy whilst holidaying in the Channel Islands.This small island offers a unique experience, with the absence of traffic creating a safe place to roam and explore without boundaries offering the potential for imagination fuelled adventures now rarely seen outside of Enid Blyton books.
There's no place like Herm; with so much to offer on an Island only one and a half miles long, it's no wonder that many Guernsey locals would prefer to keep Herm as their little secret. Welcome to Paradise Island: no cars, no crowds, no stress!

Here's a short guide of some of the best ways to enjoy your day trip to Herm.
The Trident Ferry
A welcoming atmosphere greets you as you buy your ticket to Herm at the Weighbridge in St. Peter Port. Families and groups of friends weighed down with beach bags, picnic hampers and even the family dog will join you on-board as you head off for your day out to Herm.
Ferries start from 08.30 in the morning and depart approximately every 2 hours subject to weather and tidal conditions. The Trident Ferry takes just 20 minutes to cross the 3 mile stretch of water to Herm arriving at either the harbour below The White House Hotel, or at Rosaire steps a gentle 10 minute stroll away.
As the last passengers disembark and the boat pulls away there's a curious but pleasant feeling of being marooned. Guernsey is in plain sight,
but feels many miles away.

Herm Hamlet
Arriving into the harbour, you find yourself at the hub of the Island. Lined with a smattering of eateries you also have toilet facilities and a convenience shop. There is a small post office selling their very own Herm Island stamps for the collectors out there plus when you post your postcards you get a unique Herm frank mark.

And for those who want to keep the memories alive with a souvenir, there is a gift shop with everything from a bucket and spade for the kids to custom made Herm jewellery and loved brands such as Captain Corsaire and Weird Fish.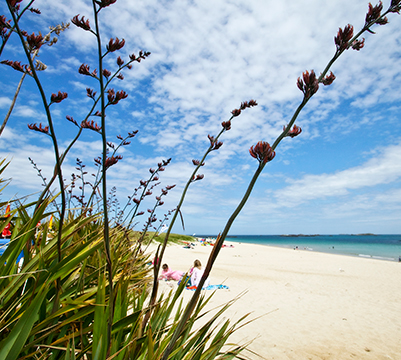 Life's a Beach
When the sun is baking the sand and the turquoise waves are lapping the shore, it's said that Herm seems more like the Seychelles than part of Great Britain.
The most popular spot to spend the day is the expansive Shell beach with its crystal clear waters, kayak hire and kiosk serving drinks, snacks and local specialities such as delicious ice cream and traditional Guernsey gâche. Despite being the busiest beach on Herm, Shell Beach is large enough never to feel too crowded.
Should you continue on around the coastal path you will be rewarded by a sunbathing spot in beautiful Belvoir Bay nestled at the foot of those cliffs. Only 75 metres across at its widest point, it pays to arrive early to Belvoir. Refreshments are also on hand here with a beach café open daily throughout the summer months.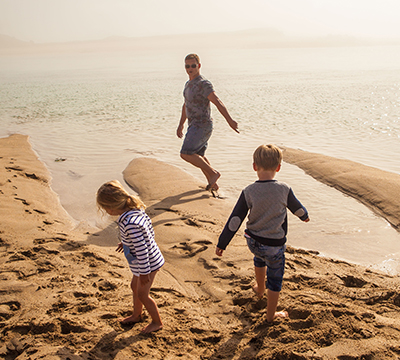 Family Games
Families in particular will find a unique experience on this small Island. The absence of traffic creates a safe place to run and explore without boundaries, children are guaranteed to experience a sense of freedom and exhilaration on Herm that is rarely found elsewhere.
Here a few fun suggestions of how to make the most of the island environment.
1. Playing pirates like those who long ago used to frequent Belvoir Bay
2. Hunting Neolithic mammoths who once strolled around the common
3. Playing hide & seek in Bluebell Woods
4. Winning a game of rounders with new found friends on the beach
Rambling amongst Flora and Fauna
Tranquil pathways that follow the coastline and cross the interior are lined with more than 500 species of wild-flower, visited by a thriving population of bees and butterflies. Bird watchers can enjoy almost 100 different species of birds, including a small community of Puffins.
Wildlife in Herm is not restricted to those with wings and with a little luck it's possible to spot Atlantic seals and dolphins in the waters around the Island. There are even recordings of visiting Minke Whales.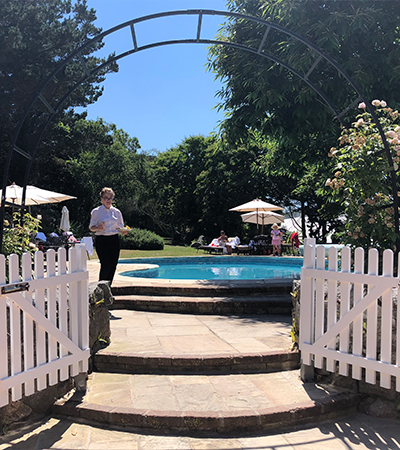 Feed your appetite
Dining on Herm is all part of the experience and there are 3 main places, aside from the Beach Cafes, to feed your soul.
On a summer's afternoon, the al fresco areas at the Mermaid and at the Ship Inn start to fill up with thirsty wayfarers keen to enjoy a cool drink before making their way back home, so be sure to get there early.
1. The Ship Inn. A cosy Bar and a sunny patio, this eatery offers something for all seasons. Open for breakfast before changing to an all-day menu from 12.00, there is something for everyone including a welcoming kids' menu.
2. Mermaid Tavern and Courtyard. Hearty pub meals and famous fish and chips form part of their delicious menu which can be enjoyed in this informal atmosphere accompanied by a pint of Herm Island Gold beer, brewed by local Liberation Brewery.
3. The White House, Conservatory Restaurant. With 2 AA Rosettes, you can pair local seafood with wines from their extensive list while enjoying uninterrupted sea views across to Guernsey. This is also a popular spot to indulge in afternoon tea.