Gourmet
Guernsey

St. Peter Port Views
With its cobbled streets, picturesque marina and historic gardens, it is easy to see why St. Peter Port is considered one of Europe's prettiest harbour towns. Guernsey's capital has been a busy port since Roman times and today its gentle bustle spills out onto the vibrant squares from informal cafes and gastronomic restaurants. The restaurants listed below are some great choices of places to eat of this picturesque harbour.
Le Nautique Restaurant is a truly exceptional seafood restaurant at the heart of Guernsey's picturesque St. Peter Port. World-class cuisine, excellent service and a perfect view of the marina, St. Peter Port Harbour and the smaller islands make Le Nautique Restaurant the perfect venue for all occasions, be it an intimate dinner for two, or a celebration for forty. With its special menus for large groups and festive occasions, Le Nautique should be your first choice for dining out in Guernsey, whatever the size of your party.
Perched on the edge of the harbour, The Boathouse has a cool continental vibe and out on the back deck you will find a heavenly sun trap where you can watch the world go by. As befits the setting, seafood is a speciality, but also offers a broad menu from wholesome breakfasts to a more elaborate dinner menu.
On the edge of the harbour, the Slaughterhouse has been reborn as a stunning bar and eatery, where great food and drink come together in a spectacular historical building. The sun-drenched sheltered courtyard is the perfect place to unwind with a snack or drink from the Prosecco bar. Inside, the bar serves one of the biggest ranges of wines, beers and spirits in Guernsey. Food prepared to perfection by their team of chefs is served on the mezzanine level, where each window offers a picture-postcard view of St. Peter Port.
Located on the ground floor of the former Coach House at Hotel de Havelet, Copenhagen Bar & Grill enjoys fine views of St. Peter Port, Castle Cornet and Havelet Bay. They serve lunch, afternoon tea, light bites and dinner seven days a week. The name Copenhagen derives from the favourite horse of the first Duke of Wellington, the new Bar & Grill still has many nods to its equestrian past which you will see dotted around the interior. There is also a Scandinavian feel to the interiors which is also reflected with some of the menu offerings.

Afternoon Teas
To experience the best of the Afternoon Tea tradition, indulge yourself with a trip to one of Guernsey's best-known establishments.
Here are some of our favourites.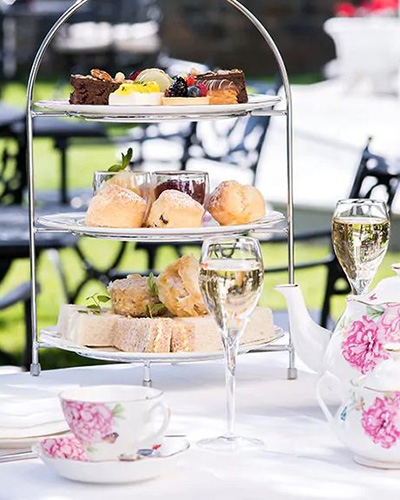 There's nowhere better to savour a delicious traditional Afternoon Tea than The Old Government House Hotel, looking out over St. Peter Port. The OGH try to make sure everything is special, and for many years have welcomed guests and locals for their popular Afternoon Tea which can be enjoyed in the Sir John Coward Lounge, or during finer weather, outdoors in The Olive Grove and gardens of the hotel.
The old saying is true; there really is no place like Herm. Just click your heels together and enjoy a full Afternoon Tea at The White House in The Conservatory restaurant or The Monk's Bar. With a selection of modern twists on the classic ingredients of an Afternoon Tea, you can enjoy the view out of the glazed dining room and feel miles away with your own slice of heaven on this beautiful Island!
Picnics
Guernsey's unique landscape of lush fields produces an enviable larder of fresh food that compliments the bountiful fish and seafood surrounding its shores. From your morning spread of creamy Guernsey butter to the afternoon's freshly caught crab;
the island has plenty of local delicacies to experience.
Hedge Veg
Local growers grow a wide range of fruit, vegetables, salad and herbs that supply our restaurants with a fantastic range of fresh produce. Keep an eye out for hedge veg while exploring the Island – local farmers 'honesty boxes' that are left on side of the country lanes for sale. At these little road-side boxes you can pick up fantastically fresh crops that will be a great addition to any picnic. From fresh strawberries, to asparagus and lemons and even herbs, just don't forget to have the right change on you for the collection tin!
Fresh Seafood
The island's shoreline is home to an abundance of fish and seafood. Turbot, mackerel, brill and bass; crabs, scallops and oysters all thrive in the temperate waters. For a rare shellfish delicacy, visit between October and April when the tides and moon are right for picking Ormers and try the Channel Islands' local mollusc. Fresh seafood can be sourced and bought from supermarkets across the island as well as at the weekly Farmers' Markets or straight from Sea Fresh Fishmongers in St. Peter Port fishing quay.
Sunset Chippy
Although not traditionally a picnic, Cobo Fish Bar is adjacent to Cobo Bay in the west, one of the island's most popular beaches. With a selection of salty favourites, Cobo Fish Bar is open all year round to provide you with classic fish-shop delicacies. Cobo Bay also offers one of the most amazing sunsets anywhere in Guernsey, so if you'd like to enjoy a beautiful sunset along with the freshest fish and chips, Cobo Fish Bar is the obvious choice!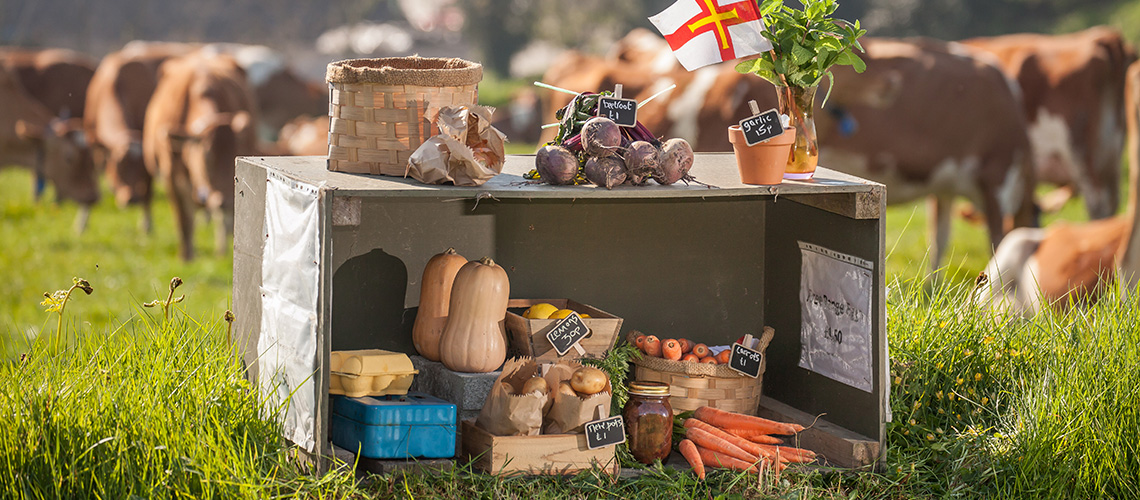 The Best Terraces In Guernsey
With 35 miles of coastline, Guernsey has some breath-taking sights to take in, and what better way to do that than over a spot of lunch or dinner! Guernsey embraces its wonderfully pretty surroundings and you can too with these superb terraces serving excellent food.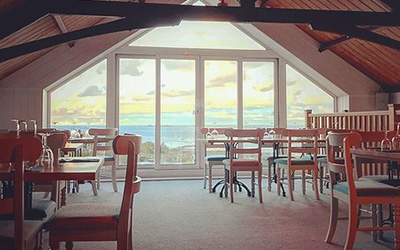 The Imperial Hotel is located in one of the Channel Island's most picturesque settings and features a terrace overlooking the beautiful Rocquaine Bay in Torteval, Guernsey. With its beach side location, the hotel is in the perfect setting to enjoy the safe sandy beaches, crystal clear waters and miles of adjoining coastal cliff paths. This is an area of great natural beauty and a tranquil location, making it a perfect place to unwind.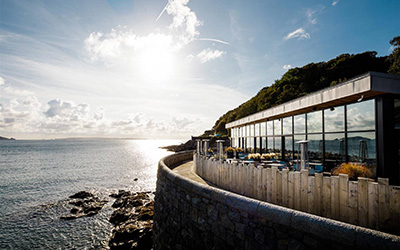 Octopus is a newly constructed restaurant and bar on the south side of Havelet Bay in St. Peter Port, Guernsey, offering fantastic views towards Herm, Jethou, and Sark. The terrace stands proudly atop the large granite sea wall and is perfectly situated for you to take in the sunset and the fresh sea air, as well as views of the imposing Castle Cornet that occupies a large amount of the horizon.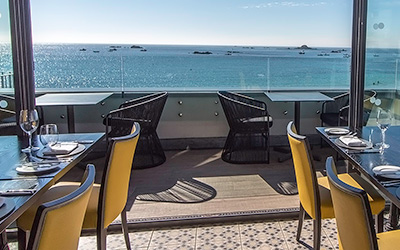 La Reunion prepares elegant, honest food designed to tempt your senses with classic flavours and newly inspired dishes created by their fantastic team. Enjoy a buzzing cocktail bar and a kitchen led by enthusiastic and talented chefs on the terrace which looks out onto the wonderful Cobo Bay on Guernsey's west coast.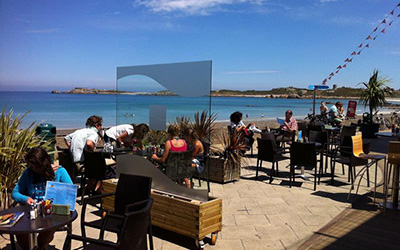 Slap bang on Pembroke Beach, The Beach House has a varied menu of beach-side classics, all served with a smile. The fantastic location lends itself perfectly to the café style atmosphere created by the large glass panels and planters. Pembroke Beach inspires pure relaxation with its golden sands, and there is no better place to sit and enjoy it than from the terrace of The Beach House.