100% financially protected
For bookings to Guernsey between November 2023 & March 2024, please contact our customer service team on 01534 496600 or via enquiries@citravelgroup.com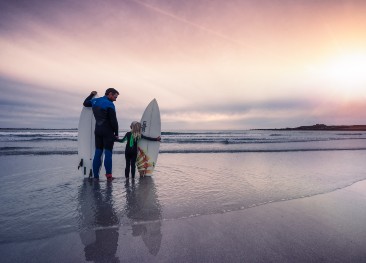 Learn to surf or "go for it" at Vazon Bay!
Surfing
Learn to surf or "go for it" at Vazon Bay!
No experience required.
About Surfing In Guernsey
Surfing plays a big part in Guernsey's outdoor calendar with a large tidal range creating some of the best waves in Europe. Based at Vazon Bay on the west coast of the island, Guernsey Surf School will answer all your queries on surfing and will be happy to advise on equipment, weather and best surfing locations.
Whether you want to brush up on your old skills or learn from the beginning, Guernsey Surf School should be your first port of call! Approved by the International Surf Association, the school offers a great programme of classes, from family lessons and birthday parties to one-on-one training.
Everything you'll need for your lessons is provided by the school (and included in the price), so all you have to do is turn up. The instructors are all qualified beach lifeguards and coaches as well, so you'll be in perfectly safe hands. Talented and accredited, they'll give you the confidence and the skills you need to go surfing in Guernsey and beyond.
How To Book Surfing In Guernsey
Guernsey Surf School
Tel: 07911 710789
Email: info@GuernseySurfSchool.co.uk
Website: www.guernseysurfschool.co.uk
The school is open from May until October and welcomes all surfers regardless of their experience. The instructors offer private or family lessons, safety advice and wave information.
Location

Expand map