Taking place throughout the year, Tasty Walks is a series of 11 self-guided walks that showcase Guernsey at its best.
Tasty Walks
1st January - 31st December
Dates
Enjoy the walks, cafes and restaurants all year!
Taking place throughout the year, Tasty Walks is a series of 11 self-guided walks that showcase Guernsey at its best. From rambling over the island's cliffpaths to exploring the charming streets of St. Peter Port, Guernsey has so much to offer in its small yet diverse 25 square miles.
Tasty Walks are designed with all walkers in mind. Whether you have years of hiking experience or would prefer a simple stroll around the lanes, there's something for everyone. You'll find each journey punctuated with some of the island's finest restaurants, cafes and beach kiosks, offering a quick snack or full relaxing meal to give you a real taste of Guernsey.
Each walk is supported by an audio guide, voiced by TV personality James Strawbridge, a full audio transcript and interactive map that highlights all the points of interest along the way.
Seafront, bombings and historic gardens

Explore the waterfront marina and streets of St. Peter Port as you meander through Guernsey's capital. Along the way you'll discover historic gardens, sites of WWII bombings, and plenty of quiet cafes and restaurants for a pit stop.
Witches, castles and famous French writers

A moderately challenging walk, this route guides you up and down the streets of St. Peter Port as you discover Castle Cornet, cobbled streets, the residence of Victor Hugo, historical accessions of witchcraft, and plenty or opportunities for a drink or local delicacy.
Secret coves, rugged cliffs and Renoir's bay

Separated into seven stages, this is the longest of the Tasty Walks. The full route starts in St. Peter Port, climbing onto the south-east cliff paths and then winding its way through fishing harbours, over isolated bays and around war-time occupation monuments.
Forts, shipwrecks and ancient settlements

Another long walk, this route explores the long sandy stretch on Guernsey's west coast. With plenty of opportunities to stop and enjoy a local pub, a relaxed beach cafe or even an award-winning restaurant, this is a walk that you can take at a leisurely pace.
Beautiful bays, castles and towers

Exploring the historic north of the island, this route is split into three stages and offers views of Megalithic tombs, Napoleonic forts, and beautiful countryside. The walk finishes in St. Peter Port, with a final section along the east coast serving up views of Guernsey's sister islands.
Islets, dolmens and pretty harbours

Looping around the fields and lanes of the island's north east, this walk is a relatively slow and easy stroll that will offer plenty of chances to learn about Guernsey's history and heritage. There are also opportunities to enjoy local treats at some of the island's best cafes.
Nature trails, historic gardens and woods

This countryside walk explores the parish of Castel, from gentle country lanes to spectacular views from one of the west coast headlands. The walk includes a stunning nature trail that leads to the picturesque Cobo Bay, before heading inland to the end of your route.
A rural stroll reveals a unique chapel

Discover the inland parish of St. Andrews, the only parish with no coastline. This walk offers beautiful valleys, fields and woodland, as well as a visit to one of Guernsey's best known attractions, the charming Little Chapel. There are also plenty of opportunities to visit a country pub or two.
Ancient watering holes, a Grand Manor House

Explore the beautiful country parish of St. Martins, situated in the south-eastern corner of the island. This is a rural walk that offers a wealth of sights, from grazing Guernsey cows to beautiful floral displays and the island's very own haunted manor house.
Occupation memories and smugglers' tales
Wandering past granite farmhouses and down leafy lanes, this route is a relaxing tour of the south coast. You'll see a 13th century church, and Occupation Museum and a pretty hamlet which was reputedly the haunt of smugglers. A small detour to the cliff top cafe at Le Gouffre will reward with stunning views.
Following nature's own trail

Ideal for a short relaxing stroll and suited to almost any walking ability, the final walk takes you around the island's St. Saviour's reservoir. This walk is perfect for packing a picnic as there are many benches to stop off at around the walk that offer lovely views.
Recommended Accommodation
Location

Expand map
You may also like
Heritage Guernsey Festival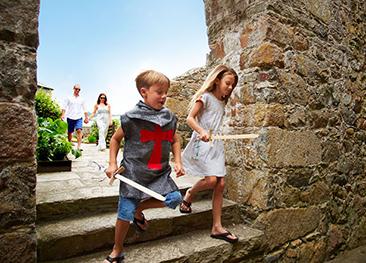 Heritage Guernsey Festival
From 19th April until 10th May hundreds of events will be taking place across Guernsey and the Bailiwick isles of Alderney, Sark and Herm!
Walking
Walking
Walking opportunities in Guernsey are endless, taking you from cliff paths to heritage sites.
Liberation Celebrations
Liberation Celebrations
The celebrations on the 9th May are every year about not forgetting the past.