Ferry Holidays to Guernsey
About Ferry Travel to Guernsey
Travel to Guernsey by fast ferry, giving you the opportunity to bring your car and explore every corner of our beautiful island.
With sailings all year, ferry travel to Guernsey offers fantastic value and the chance to experience an independent and flexible holiday with your own car.
Fast ferries depart from Poole Harbour, reaching Guernsey in less than three hours. Take advantage of the large outdoor deck, spacious passenger lounges and, of course, a chance to shop duty-free.
We also offer Jersey holidays by ferry on our partner website www.jerseytravel.com
Check availability
Condor Liberation
Fast ferry travel to Guernsey is on the Condor Liberation, a high speed trimaran carrying up to 245 cars and 880 passengers.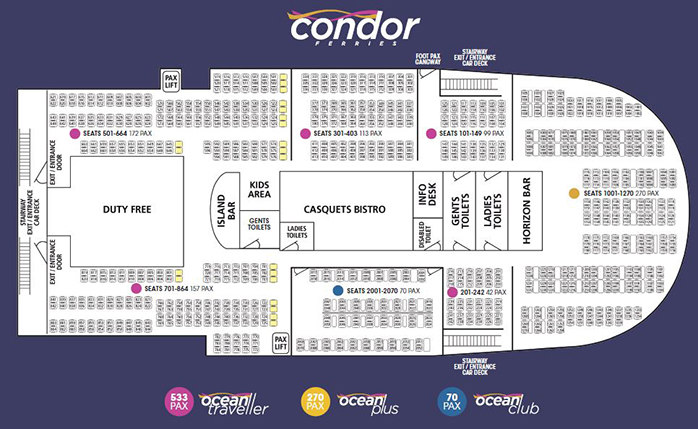 Seating
There are three seating options to choose from:
Ocean Traveller
Ocean traveller seats are airline style with folding lap trays and pre-assigned seat numbers.
Ocean Plus
Ocean Plus seats are located in the Horizon Lounge and have panoramic views. Seats are either around a table or recliners with tray tables. A power supply is installed in every seat.
Club Class
Join Condor for the ultimate on-board experience, sailing to your destination in Club Class. You'll be welcomed by your dedicated Club Class hosts and a refreshing glass of prosecco. Sit comfortably in your welcoming table seat where you'll find a luxury amenity kit with hand-selected travel essentials for your journey. And, you will be able to stay connected throughout your journey thanks to complimentary Wi-Fi of 200MB to use as you wish.
Designated Club Class Hosts
Welcome drink on arrival of prosecco (or soft drink alternative) and soothing hot towel
200MB Wi-Fi allowance
Complimentary tea and coffee, soft drinks, selection of premium snacks of a range of pastries, rice cakes or kettle chips depending on sailing time
Handpicked crockery and glassware for the service of food and drinks
Departure mints and water
Coming summer 2019. Amenity Kit – including neck pillow, eye mask, ear plugs, tissues, hand lotion, dental kit, makeup and mend kit
Travelling to Guernsey by sea with dogs
Find out more about bringing your dog to Guernsey by sea, including recommended dog friendly accommodation.
Regular Sailings All year
Condor Ferries operate throughout the year, with daily sailings arriving in Guernsey all summer