Ferry Holidays to Guernsey
About Ferry Travel to Guernsey
Travel to Guernsey by fast ferry, giving you the opportunity to bring your car and explore every corner of our beautiful island.
With sailings all year, ferry travel to Guernsey offers fantastic value and the chance to experience an independent and flexible holiday with your own car.
Fast ferries depart from Poole Harbour, reaching Guernsey in less than three hours. Take advantage of the large outdoor deck, spacious passenger lounges and, of course, a chance to shop duty-free.
We also offer Jersey holidays by ferry on our partner website www.jerseytravel.com
Check availability
Condor Liberation
Fast ferry travel to Guernsey is on the Condor Liberation, a high speed trimaran carrying up to 245 cars and 880 passengers.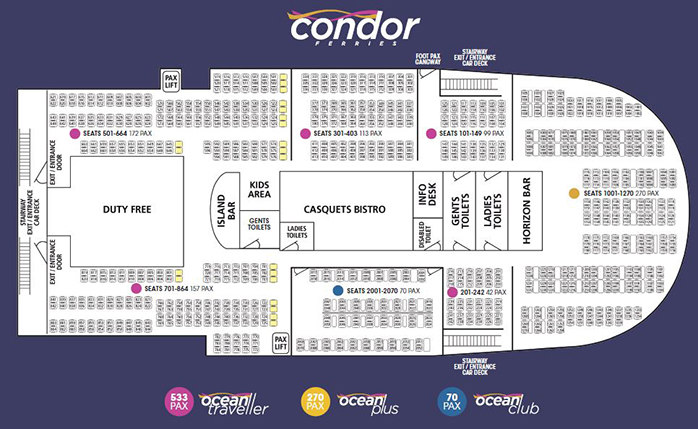 Seating
There are three seating options to choose from:
Ocean Traveller
Ocean traveller seats are airline style with folding lap trays and pre-assigned seat numbers.
Ocean Plus
Ocean Plus seats are located in the Horizon Lounge and have panoramic views. Seats are either around a table or recliners with tray tables. A power supply is installed in every seat.
Ocean Club
Ocean Club is the ultimate way to travel by ferry to Guernsey. This private lounge with leather reclining seats and tables, combined with steward service, its own exclusive menu and a power supply for each seat, mean all you need to do is sit back and enjoy the journey.
Travelling to Guernsey by sea with dogs
Find out more about bringing your dog to Guernsey by sea, including recommended dog friendly accommodation.
Recommended Accommodation
Regular Sailings All year
Condor Ferries operate throughout the year, with daily sailings arriving in Guernsey all summer
Promotion: No item found