Guernsey Holidays from Leeds Bradford
East Midlands Airport is located at Yeadon only 7 miles from Leeds city centre, a great alternative for our north of England visitors.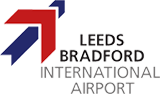 Approximate flight time to Guernsey:
1 hour 40 minutes

Regular flights all year

Public Transport Links
Trains
The airport is linked to the major rail hubs of Leeds and Bradford by Flying Tiger bus services.
Buses & Coaches
Leeds Bradford Airport is located between Leeds, Bradford and Harrogate and is easily accessible by public transport.
Airport Facilities
Shops, bars and restaurants
The airport offers a great selection of shops and eateries before and after security.
Internet Access
Unlimited free superfast WiFi is available throughout the airport.
Accessibility
There are a range of facilities available for passengers with reduced mobility.
You are required to notify your airline, tour operator or travel agent at the time of booking, if you require special assistance. This should be no later than 48 hours before you are due to travel.
Airport Parking
Premium Short Stay parking is one minute walk to the terminal. Short Stay is 2 minutes walk away, Mid Stay 3 minutes and Long Stay 5 minutes walk with a shuttle available.
Recommended Accommodation

Expand map
Address
Leeds Bradford® Airport, Leeds, LS19 7TU
Time to Guernsey
Flight time - 1 hour 40 minutes
Check-In
Check-in 2 hours before scheduled departure time.